Self Consumption Inverters
The grid-tie inverters serve to manage a photovoltaic installation that has connection to grid, where the energy consumed by the home can be generated by the photovoltaic panels or extracted from said grid, in addition they manage to send the surplus production (or not if you have injection 0).
By means of AC coupling configuration, grid-tie inverters can also be used in installations that use batteries together with an inverter-charger.
Hybrid inverters combine the function of battery inverters and grid-tie inverters. They allow in an installation that the system will be connected to the grid and that has three sources of energy obtaining: the one generated by the panels, the one obtained from the electrical grid or the one stored in the batteries, which is managed by a single device.

Microinversores BeOn Energy: available in 250W and 300W. Very easy and quick to install, they have interconnection cables and fast connectors to install up to 16 units per branch. They are very robust equipment prepared to work outdoors with IP68.
Datasheets:
Further Info: http://beonenergy.com
---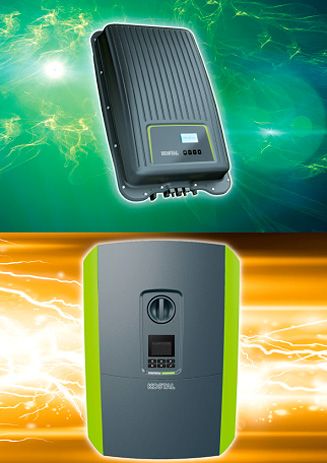 Grid-tie inverters Kostal. Its philosophy "Smart connections." Means to combine the wishes of our customers with the specialized knowledge of the KOSTAL group. Thus, its photovoltaic inverters are constantly being perfected in accordance with the demands of the market. At present, both single-phase and three-phase photovoltaic inverters of the power classes from 1.5 to 36 kW, as well as a storage system, are part of our portfolio of PIKO inverters.
Datasheets:
Further Info: http://www.kostal-solar-electric.com/es-ES