Solar Pumping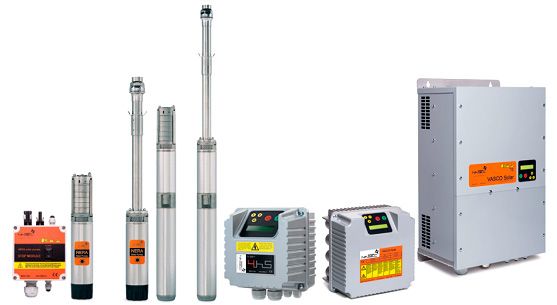 Hispasol Renovables is a Distributor of NASTEC and LORENTZ pumps in Spain and Portugal.
NASTEC
Nastec develops and manufactures a range of pumps and accessories that are the expression of the maximum integration between electronics, mechanics and hydraulics. The result is a new generation of products characterized by a greater simplicity of installation, reliability, flexibility and comfort of use together with a lower consumption of energy, through the exploitation, when possible, of renewable energy sources.
Solar Pumps NERA
NASTEC NERA solar pumps have been developed to meet the needs of low-power and low-cost pumping systems without sacrificing quality, reliability and performance. For this reason, unique technological features are concentrated in NERA.
4" Submersible pump 4HS MultiPower
NASTEC 4HS MultiPower pumps powered by renewable energy sources, is a new range from 4HS pumps with built-in inverter.
4HS MultiPower pumps can be powered by AC or DC with a wide range of operating voltage (90 – 265 VAC / 90 – 400 VDC). This means that 4HS MP pumps can be connected to solar panels, batteries, wind turbine and a diesel generator.. A special software algorithm allows for adjusting the hydraulic performance to each source and to the available power while maximising the amount of water pumped.
Inverter for solar pumping VASCO SOLAR
VASCO Solar inverters of NASTEC are designed to power traditional pumping systems using solar energy. This way it is possible to convert old systems into renewable energy installations or to use the same AC pumps to create independent, cost-saving and environmentally sustainable water systems.
VASCO Solar is built entirely of aluminium to ensure maximum cooling and durability. All other metal parts are made using AISI 304 stainless steel and therefore resistant to corrosion. It posses IP65 protection that allows to install it outdoors. Two independent external fans and an internal fan provide perfect cooling. Their operation is adjusted according to actual thermal conditions, thus extending life.

LORENTZ
Delivered efficient pump systems since 1993
With over 20 years of developing and manufacturing efficient pumping systems.
100% focus on solar water pumping
We are not the biggest pump company but we are global leaders in the solar water pumping market.
Global, professional partner network
Our pump systems are locally delivered via a global network of professional sales and services partners.
A proven track record
Some of our first solar pump systems are still running without any servicing.
Datasheets:
Further Info: https://www.lorentz.de/es and https://nastec.eu/es/