Structures
Proper mounting of the photovoltaic panels is essential to ensure an optimum performance. To do this, we must decide the angle and position according to factors such as geographical location, wind force or the number of cloudy days, among others.
In Hispasol we have prefabricated concrete structures, aluminum kits in the form of inclined triangle and integrated coplanar, as well as structures on posts and on steel pergola.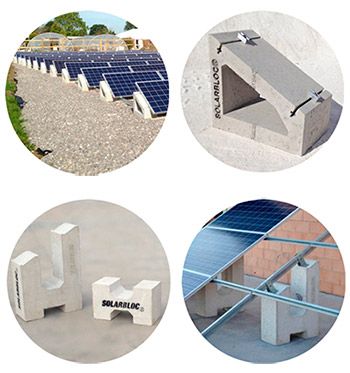 Solarbloc: Prefabricated concrete supports for the assembly of solar panels on roofs and flat surfaces, which greatly simplifies the assembly of the installations.
SOLARBLOC works as structure and concrete support for solar panels, has the necessary weight to counteract the force of the wind and external agents, is manufactured with angles of 10º, 12º, 15º, 18º, 28º, 30º and 34º to achieve the best performance of the solar panels.
Solarbloc simplifies the assembly method by not having to make foundations or anchoring of the support, in addition it reduces in time and materials the installation of solar panels on roofs or surfaces.
Datasheets:
Further Info http://solarbloc.es/
---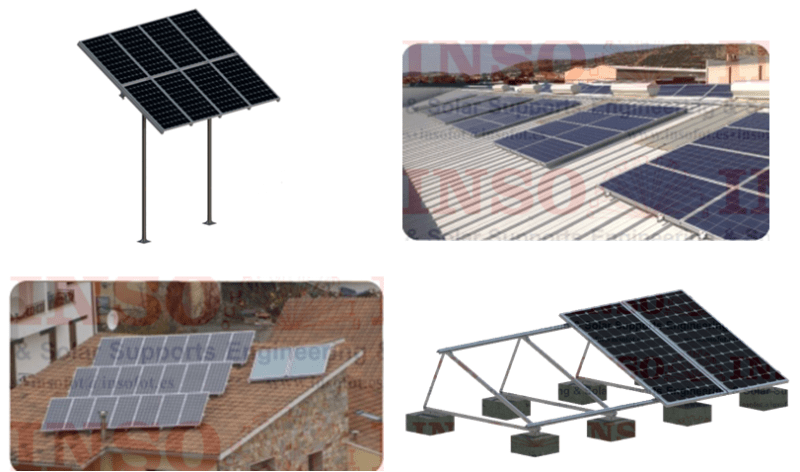 Inso, company specializing in design, calculation and manufacture of structural systems adapted to each lay out of photovoltaic modules, both on land and on roof. Thanks to more than 35 years of experience in the aluminum sector can offer structural solutions with an optimized price through its modular design INSO S7500 and S7000, which allows the assembly of all models of solar panels in an agile, simple and secure way.
Datasheetes:
Further Info: http://www.insofot.com/es/